"Scheduler Activations: Effective Kernel Support for the User-Level Management of Parallelism"
Problem
User-level library

Management in application's address space
High performance and very flexible
Lack functionality

Operating system kernel

Poor performance (compared with user-level threads)
Poor flexibility
High functionality
How to design a parallelism mechanism (e.g., kernel interface + use-level thread package) that combines the functionality of kernel threads with the performance and flexibility of user-level threads?
Background
Theme for supporting concurrent and parallel programming
Conform to application semantics
Respect priorities of applications
No unnecessary blocking
Fast context switch
High processor utilization
"Heavyweight" Process Model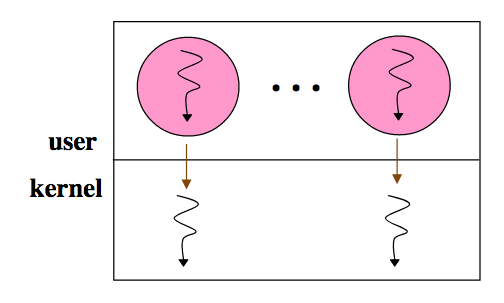 Pros:

Simple, uni-threaded model
Security provided by address space boundaries

Cons:

High cost for context switch
Coarse granualarity limits degree of concurrency
"Lightweight" User-level Threads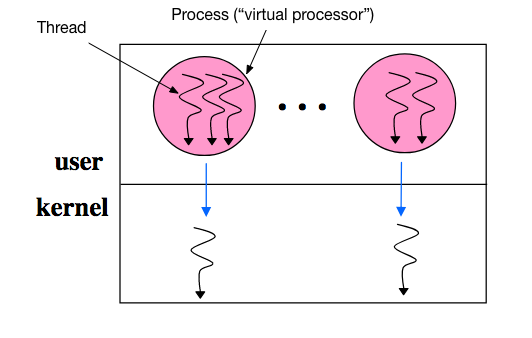 Pros:

Thread semantics defined by application: different applications can be linked with different user-level thread libraries
Fast context switch time: within an order of magnitude of procedure call time
No kernel intervention (i.e., high performance)
Good scheduling policy flexibility: done by the thread lib

Cons:

Unnecessary blocking: A blocking system call, I/O, page faults, and multiprogramming block all threads (i.e., lack of functionality)
System scheduler unaware of user thread priorities
Processor under-utilization (i.e., Hard to run as many threads as CPUs) because: Don't know how many CPUs; Don't know when a thread blocks
Kernel Threads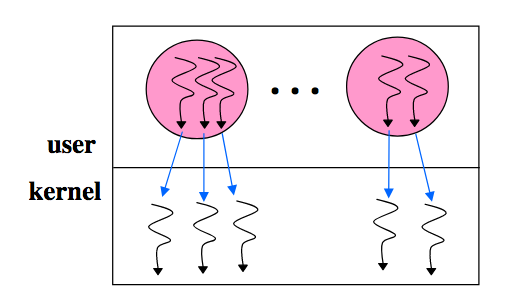 Pros:

No system integration problems (system calls can be blocking calls) (i.e., high functionality)

Handle blocking system calls/page faults well

Threads are seen and scheduled only by the kernel

Cons:

Adds many user/kernel crossings (i.e., low performance) (e.g., thread switch, create, exit, lock, signal, wait, ...)

Typically 10x-30x slower than user threads

Every thread-related call traps: etra kernel trap and copy and check of all parameters on all thread operations
Single, general purpose scheduling algorithm (i.e., lack of flexibility)
Thread semantics defined by system
Context switch time better than process switch time by an order of magnitude, but an order of magnitude worse than user-level threads
System scheduler unaware of user thread state (e.g., in critical section) leading to blocking and lower processor utilization
User-level threads multiplexed on kernel threads
Question: Can we accomplish system integration by implementing user-level threads on top of kernel threads?

No:

Different apps have different needs (thread priorities, etc)
Insufficient visibility between the kernel and user thread library

Kernel doesn't know best thread to run
Kernel doesn't know about user-level locks, priority inversion (preempt while in critical section): too much info changing too quickly to notify kernel
kernel events (preemption, I/O) invisible to user library (user thread blocks, then kernel thread serving it also blocks)

Kernel threads are scheduled obliviously w.r.t user-level thread library
Hard to keep same number of kthreads as CPUs

Neither kernel nor user knows how many runnable threads
User doesn't even know number of CPUs available

Can have deadlock
System Design
Key problem:

Application has knowledge of the user-level thread state but has little knowledge of or influence over critical kernel-level events (this is by design to achieve the virtual machine abstraction)
Kernel has inadequate knowledge of user-level thread state to make optimal scheduling decisions

Kernel may de-scehdule a thread at a bad time (e.g., while holding a lock)
Application may need more or less computing

Solution:

A mechanism that facilitates exchange of information between user-level and kernel-level mechanisms
Note
A general system design problem: communicating information and control across layer boundaries while preserving the inherent advantages of layering, abstraction, and virtualization.
What is a SA?

Execution context for running user-level threads
Notifies the user-level thread system of kernel event
Provides space for the kernel to save processor context
Note
A scheduler activation is the execution context for vectoring control from the kernel to the address space on a kernel event. The address space thread scheduler uses this context to handle the event, e.g., to modify user-level thread data structures, to execute user-level threads, and to make requests of the kernel.
Scheduler Activations (SA) structure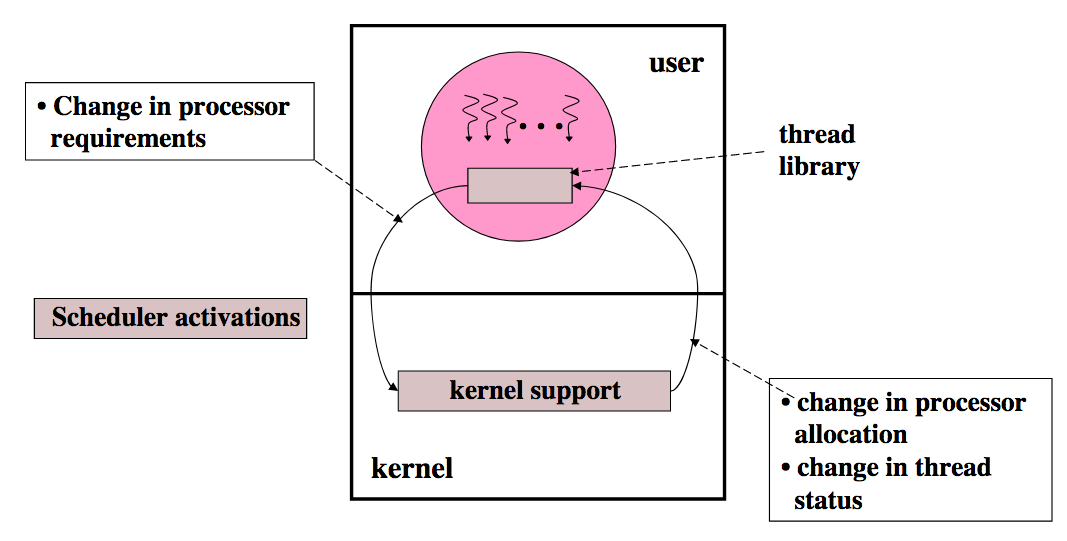 SA basics

Multi-threaded programs given an address space (as usual)
Facilitate flow of key information between user space and kernel space
Kernel explicitly "vectors" kernel events to the user-level thread via SA
Extended kernel interface for processor allocation-related events

User-level thread library notifies the kernel about events
Kernel uses the SA itself to do the same

SA has two execution stacks

The kernel stack - used by the user-level thread when running in the kernel mode (e.g., system call)
The user stack - used by the user-level thread scheduler

Each user-level thread is given a separate stack so that the thread scheduler can resume running if a user-level thread blocks
The kernel-level SA communicates with the user-level library by upcalls
When must kernel call into user-space? (Table II)

New processor available
Processor had been preempted
Thread has blocked
Thread has unblocked

When must user call into kernel? (Table III)

Need more CPUs
CPU is idle
Preempt thread another CPU (for higher priority thread)
Return unused SA for recycling (after user-level thread system has extracted necessary state)

SA role: there is one running SA for each processor assigned to the user process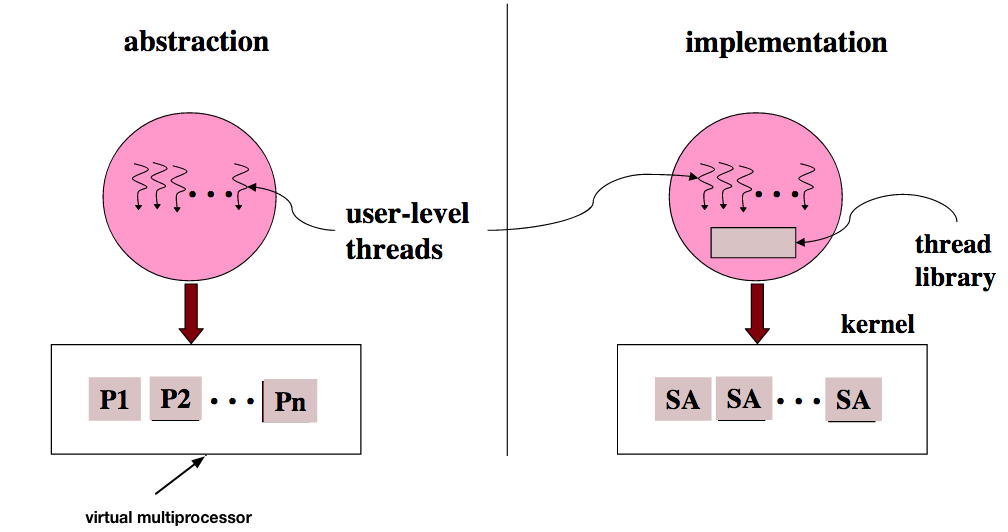 SA lifecycle

On program start:

New SA is created, assigned a processor and "upcalled" (fixed entry point)
User-level thread scheduler initializes and runs on this SA

Kernel uses SA to notify the user-level about important events: preemption, I/O, page faults

Avoiding effects of blocking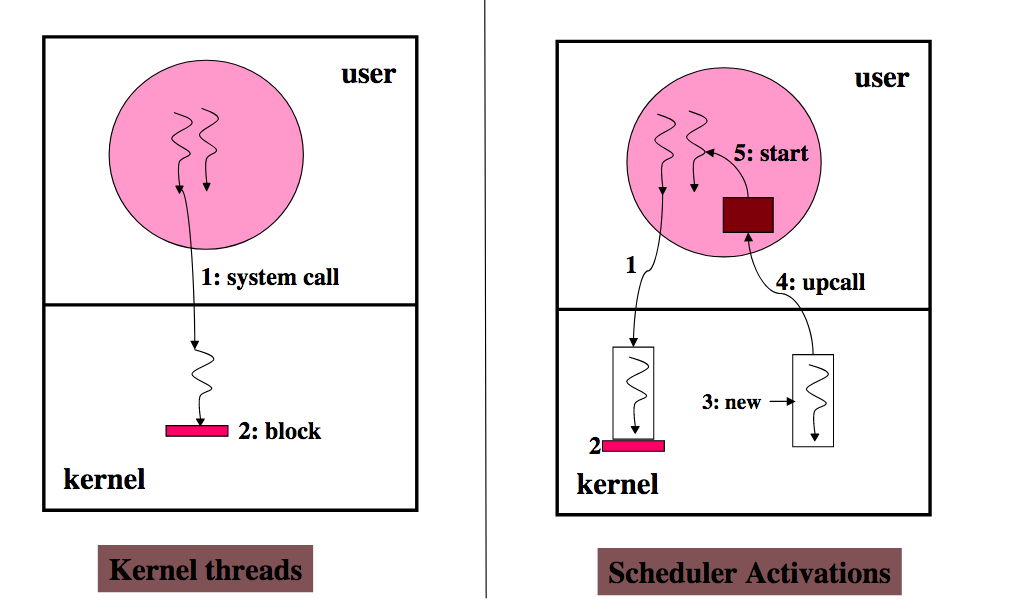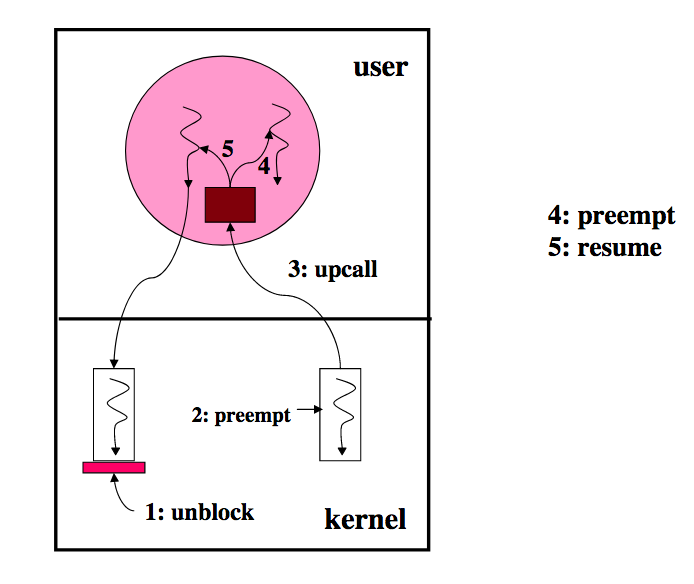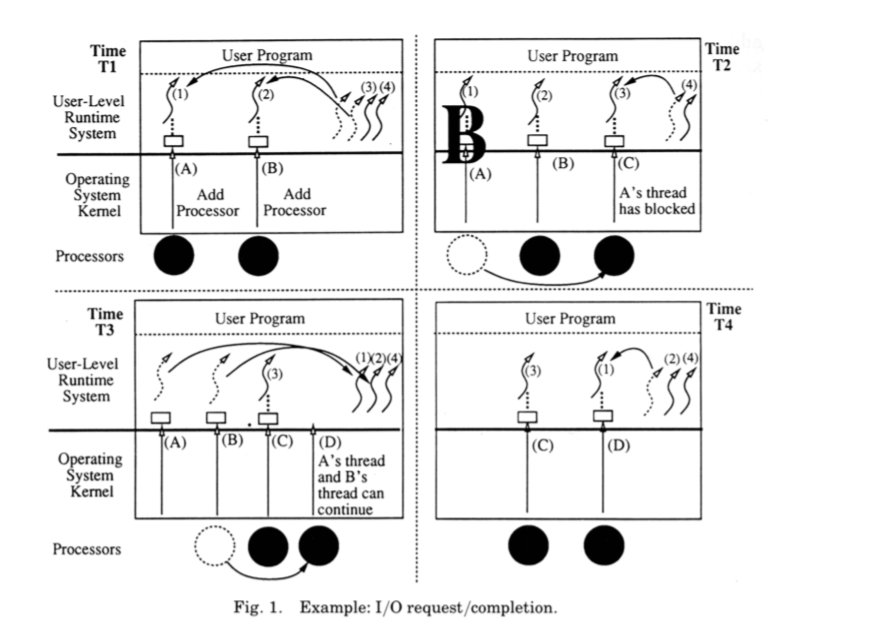 Responsibility division between kernel and application address space:

Processor allocation (the allocation of processors to address space) is done by the kernel.
Thread scheduling (the assignment of an address space's threads to its processors) is done by each address space.
The kernel notifies the address space thread scheduler of every event affecting the address space.
The address space notifies the kernel of the subset of user-level events that can affect processor allocation decisions.

SA vs. kernel threads key differences

Preempted threads never resumed by the kernel directly (rather, indirectly through an SA)
A traditional kernel:

Directly resumes the kernel thread
Does NOT notify the user-thread about preemption
Does NOT notify the user-thread about resumption

Critical section

Problem: threads preempted while holding a lock, which can lead to deadlock

User-level thread holds lock on the program's ready list
Gets preempted
Thread scheduler tries put that thread in the ready list on SA upcall

Use recovery (recover when it does)

Thread scheduler checks to see if the thread was executing in a critical section
If so, the thread is continued temporarily via a user-level context switch. When the continued thread exits the critical section, it relinquishes control back to the original upcall, again via a user-level context switch.

Others

Page faults must be handled carefully: the kernel must notify the program of a page fault only when the page fault is serviced
User-level thread after blocking might still execute in kernel (e.g., I/O completing): the kernel notifies the user-level only after the user thread is in a "safe" point
Every SA needs a processor to do the up-call on: at time T3 of I/O image, when I/O completes, kernel must notify the user-level thread of the event via SA, and this notification requires a processor
Application free to build any concurrency model on SAs
Reference